| ARTIST | SONG | ALBUM |
| --- | --- | --- |
| Skip James | Devil Got My Woman | The Complete Early Recordings |
| Jim Thompkins | Bedside Blues | Son House & The Great Delta Blues Singers |
| Garfield Akers | Jumpin' And Shoutin' Blues | Son House & The Great Delta Blues Singers |
| James Brewer | I'm So Glad Good Whiskey's Back | Blues From Maxwell Street |
| Arvella Gray | Railroad Song And John Henry | Blues From Maxwell Street |
| Sippie Wallace | You Gonna Need My Help | Sippie Wallace Vol. 2 1925-1945 |
| Kitty Gray | My Baby's Ways | Texas Piano Vol. 2 1927-1938 |
| Lil Johnson | Stavin' Chain | Lil Johnson & Barrelhouse Annie Vol. 3 1937 |
| Cecil Gant | Train Time | Cecil Gant Vol. 7 1950-1951 |
| Cecil Gant | Owl Stew | Cecil Gant Vol. 7 1950-1951 |
| Blind Lemon Jefferson | Rabbit Foot Blues | Best Of |
| J. T. ''Funny Paper'' Smith | Hoppin' Toad Frog | J. T. ''Funny Paper'' Smith 1930-1931 |
| George Torey | Married Woman Blues | Memphis Blues 1927-1938 |
| Jimmy Nolen | Glad And Sorry Blues | Ruckus Juice & Chittlins Vol. 1 |
| Sonny Parker | She's In The Graveyard Now | Ruckus Juice & Chittlins Vol. 1 |
| Stavin' Chain (Wilson Jones) | (Little) Liza Jane | Field Recordings Vol. 16 1934-1940 |
| John 'Big Nig' Bray | Trench Blues | Too Late, Too Late Vol. 5 1927-1964 |
| Walter Taylor | Thirty Eight and Plus | Rare Country Blues Vol. 2 1929-1943 |
| Jimmy DeBerry | Rising Sun Blues | Memphis Blues (JSP) |
| Jimmy DeBerry & Walter | Worried, Wonderin' And Glad | Back |
| Blind Leroy Garnett | My Lovin' Blues | Boogie Woogie and Barrelhouse Piano Vol. 2 1928-1930 |
| Mozelle Alderson | Tight In Chicago | Barrelhouse Mamas |
| Raymond Barrow | Walking Blues | Boogie Woogie and Barrelhouse Piano Vol. 2 1928-1930 |
| Sidney Maiden | San Quentin Blues | Trouble An' Blues |
| Easy Baby | Good Morning Mr. Blues | Grab Me Another Half A Pint |
| Billy Branch | Hootchie Kootchie Man | Grab Me Another Half A Pint |
| Leadbelly & Josh White | Don't Lie Buddy | Leadbelly Vol. 3 1943-1944 |
| Leadbelly | New York City | Leadbelly Vol. 6 1947 |
| Skoodle Dum Doo & Sheffield | Broome Street Blues | Rare Country Blues Vol. 2 1929-1943 |
| James Tisdom | Cadillac Blues | Texas Country Blues 1948-1951 |
| Ralph Willis | Amen Blues | Shake That Thing: East Coast Blues 1935-1953 |
| Jesse Fuller | Ninety Nine Years And One Dark | Move On Down The Line |
| Homesick James | Fayette County Blues | Ain't Sick No More |

Show Notes:
Cecil Gant Obituary, 1951
As usual a wide range of blues on today's program spanning from 1926 through the end of the 1970's. We have several mini-spotlights today including twin spins of Cecil Gant, Jimmy DeBerry, Leadbelly plus a couple of album features. Up first we spin two 1950 tracks by Cecil Gant. Gant, who went by the moniker the G.I. Sing-Sation, was an army private who allegedly got his first break while performing for a war bond rally in 1944. He scored a massive hit the same year with "I Wonder" the first release on the new Gilt-Edge label. The record's huge success prompted others to form record companies devoted to black music. Gant was a first rate ballad singer in the vein of Nat King Cole and Charles Brown but he was also a superb bluesman who could lay down some storming boogie-woogie. Gant recorded prolifically for the L.A. labels Gilt-Edge and 4 Star and in Nashville, which was probably his hometown, for Bullet, Dot and Decca, meanwhile playing in nightclubs throughout the country. Between 1944 and 1951 he waxed over 150 sides before his untimely death in 1951 at the age of 38. The Blue Moon label has provided an invaluable service by issuing all of Gant's recordings across seven CD's. Listening to these CD's gives me a renewed appreciation for Gant and the series actually gains strength as it moves along.  One of today's selections, "Owl Stew", was Gant's private tribute a whorhouse on Fourth Avenue North in Nashville. As he explained, the so called " stew in Nashville" is "really the best" and "the price is low, if you get it once, youn gonna want some more." I'll be featuring Gant more extensively on an upcoming show. For an excllent overview of Gant consult Nick Tosches' Unsung Hereos of Rock N' Roll.
Another great double shot is a pair of tracks by Jimmy DeBerry and Walter Horton cut some twenty years apart. In the 1920's in Memphis DeBerry hung around with Will Shade and members of the Memphis Jug Band plus legendary figures like Frank Stokes and Jack Kelly. In 1939 the American Record Company set up a field unit in Memphis and recorded Little Buddy Doyle, Jack Kelly, Charlie Burse and ten sides by Jimmy DeBerry and His Memphis Playboys. During the 50's he worked with Walter Horton as Jimmy & Walter and the duo recorded for Sun in 1953. That year he played on the classic instrumental "Easy" and cut our selection "Before Long" issued as by Jimmy & Walter. The track "Worried, Wonderin' And Glad" was cut circa 1972-73 and comes from the album Back, The Compete Memphis Sessions Vol.2 – 1972 the second of two hard to find albums (the first was titled Easy) DeBerry and Horton cut on the Crosscut label. There are some fine moments on these albums although it should be noted that DeBerry's timing is idiosyncratic to say the least and the sound quality leaves much to be desired. However, DeBerry is a marvelous singer as he proves on the gorgeous "Before Long" backed by Houston Stokes' sparse drumming. Twenty year later his voice is more weathered but still expressive and Horton, as always, is superb. The Crosscut sessions were DeBerry's last. He passed in 1985.
We also pick a pair of fine 1940's tunes by Leadbelly. Leadbelly  had a vast repertoire that incorporated  ballads, worksongs, spirituals,
cowboy songs, children's songs and of course blues. Thankfully Leadbelly was recorded in depth in a recording career that stretched from 1934 until his death in 1949. The Document  label alone has issued over a dozen CD's devoted to his music. Our selections come from the Document collections Leadbelly Vol. 3 1939-1947 and Leadbelly Vol. 6 1947. The latter entry (comprising two Folkways albums from 1947 and a session of unknown origins from the same year) is particularly strong and where "New York City" comes from, a song he originally cut back in 1940. "Don't Lie Buddy"is a wonderful 1944 collaboration between Josh White and Leadbelly.
We spotlight a couple of compilation LP's (both unavailable on CD) today including two tracks from Blues From Maxwell (read notes – PDF) on the Heritage label and two from Grab Me Another Half A Pint on the Barrelhouse imprint. The music on Blues From Maxwell Street was organized by blues scholar Paul Oliver in 1960 and features tracks by Arvella Gray, James Brewer, Daddy Stovepipe and King Davis. Not only is there some great music but the album also serves as an important document of several fine bluesman who collectively recorded very little. These were also Daddy Stovepipe's final recordings. His real name was Johnny Watson and he was born in 1867, making him the oldest artist on record. He made his debut in 1924 and more sides in 1931 and 1935 featuring his wife Mississippi Sarah on these later sessions. As Oliver wrote in the notes: "The blues singers of Maxwell Street are many, and many are transitory figures, here today, hopping a freight train tomorrow. Amongst the best and most familiar figures on the street are Blind Grey, Blind Brewer, King David and Daddy Stovepipe … and these are the singers who are featured on this documentary of one of the most colorful Negro streets in the United States." Both Brewer and Gray were recorded live on Maxwell Street in 1964 for the documentary And This Is Free. Those wonderful recordings were issued several years ago on the 3-CD And This Is Maxwell Street and the footage has is now available on DVD. As for Oliver I'm glad to report that the blues preeminent scholar has just released a new book, Barrelhouse Blues that is currently sitting on my desk waiting to be read.
Grab Me Another Half A Pint features several excellent lesser-known Chicago artists including Kansas City Red, Sonny Boy McGhee, Alex Randle AKA Easy Baby and the first recordings by a young Billy Branch. "Good Morning Mr. Blues" finds Easy Baby in commanding form. Easy cut just two albums but they're both knockouts; Sweet Home Chicago Blues cut for Barrelhouse in 1977 features Kansas City red and Eddie Taylor and If It Ain't One Thing, It's Another was cut for Wolf in 2000 featuring Taylor's son on guitar. Easy also appears on the compilation Low Blows. Sadly Easy passed just a month ago. For his part Branch is tough as nails on his two numbers including a gritty reworking of the classic "Hoochie Koochie Man" sporting some new lyrics:
I came to Chicago, in the summer of 69'
I didn't smoke no reefer, I didn't drink no wine
When the summer was over, I was a changed man
Now I can turn up a bottle and they call me reefer Dan
And you know I'm here, everybody knows I'm here
Cause' I'm your Hootchie Cootchie man everybody knows I'm here
As always there's plenty of blues from the 1920's and 30's including cuts by Skip James, Kitty Gray, J.T. "Funny Papa" Smith, Walter Taylor, plus couple of artists who recorded for the Library of Congress among others. Skip James cut just 18 sides (James claimed to have cut 26 sides) for Paramount in 1931 and they remain among the rarest and most treasured blues recordings of the era. James worked as a traveling musician work camps, farms and whorehouses as a pianist. He also earned money as a bootlegger and gambler. In 1964 he made storied a comeback at the 1964 Newport Folk Festival and cut several albums before his death in 1969. He hung on just long enough to hear Cream record his classic "I'm Glad"
Practically nothing is known of Texas bluesman J.T. "Funny Papa" Smith and not even a photo has been discovered. He cut 20 sides at sessions in 1930, 1931 plus a batch of unreleased sides in 1935. Thomas Shaw who played with Smith in Okalahoma remembered Smith as a plantation overseer and convicted murderer.  His debut single, the two-part  "Howlin' Wolf Blues" was a big hit. A June 1931 letter from Brunswick to dealers called it "the biggest selling record on the market today. …It is true that this is a Race Record and you might think therefore that its sales would be confined to your colored trade. Not so. You will be surprised how many white folk will buy it."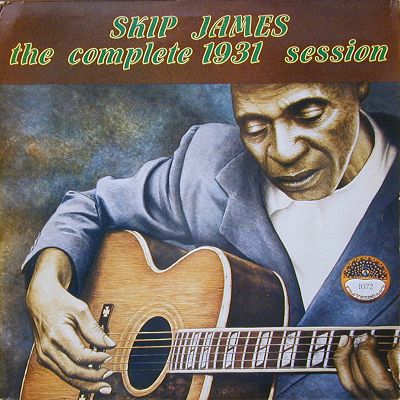 Even less is known about some of our other featured artists. Walter Taylor was from Western Kentucky where he was associated with 12-string guitarist John Byrd. Walter cut 7 sides with a trio that included Byrd, heard to good effect on the jaunty hokum number "Thirty Eight and Plus" plus 5 others as a duet with Byrd using the name Washboard Walter. There's seems to be some disagreement if Washboard Walter and Walter Taylor are the same person. For what it worth I think they are. You can decide for yourself by picking up the excellent Rare Country Blues Vol. 2 1929-1943 on Document. Also from that compilation we play "Broome Street Blues" one of four sides cut in 1943 by the duo of Skoodle Dum Doo & Sheffield who display some stunning interplay between guitar and harmonica plus a keen lyric sense:
I've got the Broome Street blues
I been sweeping all over town (2x)
I done swept up the gal I love now, I believe I'll settle down
Kitty Gray and her Wampus Cats cut nine sides (two unissued) at an October 30, 1937 date in San Antonio. The great slide guitarist Oscar "Buddy" Woods plays guitar on the session and is in fine form on "My Baby's Ways."  Woods also cut a 78 under his own name at the same session. Both sides by Stavin' Chain (Wilson Jones) and John "Big Nig" Bray were recorded in 1934 just a few months apart In Louisiana by John Lomax for the Library of Congress. Bray's "Trench Blues" is a fascinating song about World War I. Bray actually served in France, one of some 50,000 black troops who were in Europe. Another singer to have served was "Kingfish" Bill Tomlin who cut "Army Blues" about his experiences.